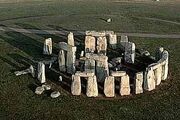 Stonehenge is a monument of several arranged stones near Amesbury in the English county of Wiltshire, about 8 miles (13 km) north of Salisbury.[1] Most of what is visible today represents the last phase of construction of standing stone arrangements inside the bank and ditch and was probably completed around 1700 BCE. [2]
Modern Uses of the Site
Edit
Stonehenge was not built by the Druids, but yet they did do their rituals there, supposedly sometime around 700 BCE. Modern druids use Stonehenge in their rituals.
Mathematics of the Site
Edit
Reference Material
Edit
External Links
Edit
---
This article is a stub. You can help the Miriadic Wiki by expanding it.
Ad blocker interference detected!
Wikia is a free-to-use site that makes money from advertising. We have a modified experience for viewers using ad blockers

Wikia is not accessible if you've made further modifications. Remove the custom ad blocker rule(s) and the page will load as expected.