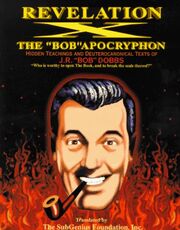 Revelation X: The "Bob" Apocryphon
is the third official
Subgenius
book created to explain and expand on the sacred text of the Church of the Subgenius. It was released to the public in 1994, edited by
Ivan Stang
and put out by
Fireside Books
.
The 10,001 Essences of "Bob"
Edit
The Conspiracy
Edit
The Lost Gospels of Dobbs
Edit
Mondo Connie
Edit
Man and the Subgenius
Edit
Birth of the True Beautants
Edit
There Is Only One Sin
Edit
Heaven and Hell
Edit
Gods, Monsters, and UFOs
Edit
History of the Future
Edit
God Happens
Edit
Victory Through Hate
Edit
Cosmic Slack Vs. Cosmic Pain
Edit
External Links
Edit
---
This article is a stub. You can help the Miriadic Wiki by expanding it.
Ad blocker interference detected!
Wikia is a free-to-use site that makes money from advertising. We have a modified experience for viewers using ad blockers

Wikia is not accessible if you've made further modifications. Remove the custom ad blocker rule(s) and the page will load as expected.